Quick go get your ledger books, we have a game to play! In the next five minutes can you tell me:
What revenue you have realized this year versus last year?

As well as how many pre-need sales you have converted this year versus last year? Great!

How about comparing those figures on a quarterly or month by month basis to know when your staffing needs are historically the highest?

Here's a list of the top 3 reports we repeatedly hear cemeteries have the greatest need to see that they can't currently without time intensive manual work.

#1 Aging Contracts
In our accounts receivable report page we've fields that display the age of your outstanding contracts. With this report you can see contracts that are open and aged 30, 60 and 90 days.
This is a helpful way to stay on top of your sales process as well as forecasting future business and budget allocation. If you know what inputs are expected to come into your business you can manage your outputs more easily across your whole business.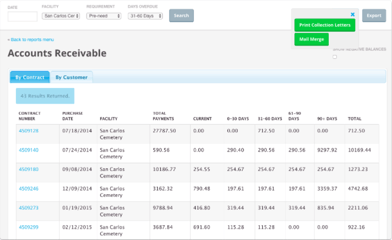 #2 Recognizing popular items or services
Using PlotBox's Sales Reporting tool you can run a report that allows you to see which of your items are most popular or which services you provide are being requested the most. This allows you to either increase efforts on your current top performing items/services.
Or, you can look at what you aren't selling so much of, and gain some understanding from either your sales team or your customers to understand where and why you're missing the mark.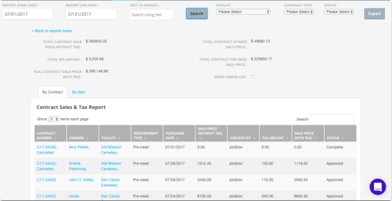 #3 Deferred revenue
This is what we would view as an A number 1 issue for all cemeteries. Debatably the most heavily deferred revenue industry second only to insurance companies.
Keeping track of that money in the form of a liability until you are able to perform the service attached to that dollar value you have sitting in an account is the most important part of your business.
You need to be sure your allocation of revenue doesn't flip flop between assets and liabilities, spending from both and finding yourself in a hole you can't dig your way out of. PlotBox has very clear and easy reporting to understand around this aspect of your business. All of which is seamlessly integrated and ready to be reported on as soon as you have information loaded into PlotBox.
Maybe you're an accounting and finance wizard and this isn't a problem for you. We bet dollars to doughnuts that's not the case. It's not a factor of you not caring about your business its a factor of antiquated technology.
Technology has made great strides in how quickly you can run a full diagnostic on your business. You can identify shortcomings as well as hone in on areas of your business that are over performing. PlotBox incorporates a whole suite of finance tools from a general ledger to pre-need conversions, trusting, funds liability, and everything in between.
Please reachout to us at info@plotbox.io or our Boston office at 857-301-7810.
Alternatively click below for an online demo and have a Product Expert walk you through our finance modules as well as the entire suite of services we provide to you, all of which are online and accessible from any device.